12 datos que demuestran que Candy Crush Saga es mucho más que la "golosina" digital de moda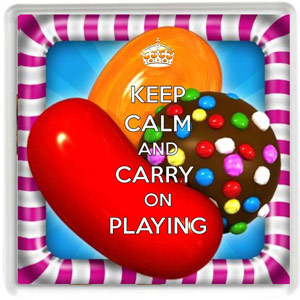 Candy Crush Saga es la sensación del momento en el universo de las aplicaciones. La popular app causa furor entre usuarios procedentes de todos los rincones del planeta. Y es que parece que no, pero este aparentemente inocente juego está conquistando el mundo. ¿No se lo cree? Eche, si no, un vistazo a los datos que recoge a continuación The Huffington Post:
1. Acumula ya más de 500 millones de descargas.
2. Uno de cada 23 usuarios de Facebook se ha rendido ya a los encantos de Candy Crush Saga.
3. La gente se están convirtiendo en peligrosamente "adicta" a Candy Crush Saga.
Candycrush has quickly taken over my life. I now understand the struggle of addiction and I owe an apology for judging heroin addicts

— Eric (@The_Francbro) November 15, 2013
4. Los caramelos de Candy Crush Saga son tan famosos que aparecen incluso en prendas de vestir y calzado.
5. A pesar de contar con apenas un año de vida, King.com, el "cerebro" detrás de Candy Crush Saga, estaría pensando ya en salir a bolsa.
6. Hay suficientes tuits sobre Candy Crush Saga para llenar 4.500 novelas.
7. Candy Crush Saga ha logrado colarse en el podio de las apps con más ingresos brutos de iPhone durante más de 8 meses.
8. La gente gasta casi 900.000 dólares al día en Candy Crush Saga.
9. Los "fanáticos" de Candy Crush Saga están tan encantados con la famosa app que hasta hacen tartas relacionadas con el celebérrimo juego.
Candy Crush cake, yum! pic.twitter.com/fU8mWlYwIt

— Best Inventions (@Funinventions) November 15, 2013
And it's done! Our fondant comeback cake, a Candy Crush cake. A chocolate fudge cake with Nutella filling. :) pic.twitter.com/JRhSazJeDj

— Wadough's Cupcakes (@wadoughs) November 2, 2013
10. Ya es posible comprar caramelos Candy Crush Saga de verdad.
11. Candy Crush Saga sirve incluso para unir a la gente.
Whenever I see someone playing Candy Crush on the subway, especially at rush hour, I feel they are a kindred spirit.

— Rebecca Hiscott (@rebeccahiscott) November 15, 2013
You hear the Candy Crush music playing through her headphones on the subway. You glance at her phone — level 115. Is it love? Yes.

— Stefan Becket (@stefanjbecket) July 25, 2013
12. Candy Crush Saga brilló con luz propia, y con méritos propios, en el último Halloween.
Share your Halloween photos w me. Katie this is awesome RT @katiecrecion "@curtis_stone love a glue gun! Candy Crush pic.twitter.com/Ky6CyIYtIG"

— Chef Curtis Stone (@curtis_stone) October 28, 2013
Lolinggg at the fact my parents dressed up as Candy Crush for this Halloween party. pic.twitter.com/TY9uOedcQs

— Mia Zervigon (@Miaazee) October 27, 2013
I really feel like my Halloween costume was underappreciated. #candycrush #halloween pic.twitter.com/2XQVe5sWXA

— Jamie Lynn (@jamiestarlynn) November 7, 2013
No te pierdas nada de MarketingDirecto.com y únete a nuestro Telegram t.me/MarketingDirecto