Facebook, Twitter y MySpace le declaran la guerra a Google con "Don't be evil"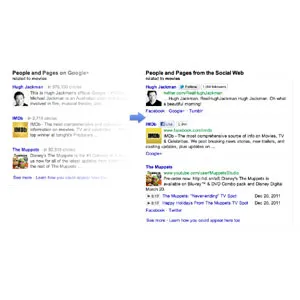 Facebook, Twitter y MySpace han decidido unir fuerzas para desarrollar juntas una herramienta que pretende convertirse en "arma arrojadiza" contra un enemigo común: el gigante de las búsquedas online Google.
A mediados de este mes, Google lanzaba "Search, plus Your World", un buscador "social" personalizado que cede todo el protagonismo en las búsquedas a Google+ y condena al ostracismo al resto de plataformas 2.0.
Tras el lanzamiento de "Search, plus Your World", Twitter ya hizo público su enfado por su exclusión del nuevo buscador de Google.
Apenas unas semanas después del estreno de "Search, plus Your World", llega la respuesta de la competencia: "Don't be evil". Esta herramienta, que, no sin intención, toma prestado el eslogan de Google, ha sido desarrollada por Blake Ross, director de producto de Facebook en colaboración con los desarrolladores de Twitter y MySpace, según informa The Wall Street Journal.
En la web Focusontheuser.org, el internauta tiene la oportunidad de informarse sobre "Don't be evil" e instalar la aplicación en su ordenador en forma de "bookmark".
"Don't be evil" recopila resultados de Flickr, Twitter, Facebook, LinkedIn, MySpace, Quora, Tumblr, Foursquare, CrunchBase, FriendFeed, Pila, GitHub y Google+.
No te pierdas nada de MarketingDirecto.com y únete a nuestro Telegram t.me/MarketingDirecto