CHINA, la única agencia española que se trae un premio a casa de The Cup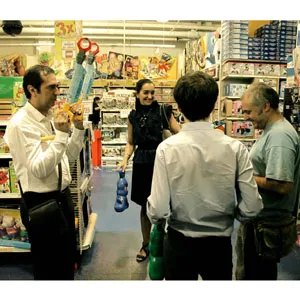 Clemenger BBDO es la ganadora de la 6º Copa Intercontinental de Publicidad. El pasado 8 de marzo se celebró en Estambul The CUP, un evento al que asistieron más de 400 creativos publicitarios europeos, de Asia Pacífico e Iberoamérica. Los mejores trabajos de los cuatro continentes se han elegido en este gran evento.
El jurado presidido por Amir Kassaei, director creativo ejecutivo de DDB Worldwide y presidente del Art Directors Club of Europe (ADCE), otorgó el máximo galardón del certamen 'The Grand Cup' a la campaña 'Break Up' del Banco Nacional de Australia, que consiguió atraer a 180.000 nuevo clientes. La agencia española CHINA también fue una de las ganadoras, en la categoría de 'Entretenimiento y Ocio', con el trabajo 'El Concierto de los juguetes' realizado para Toys'R'us España. Esta agencia fue la única española garladonada de los cuatro trabajos españoles presentados.
El ADCE ha sido el festival más premiado en esta sexta edición de The CUP con 13 trofeos. Le sigue ADFEST con doce trabajos premiados; El FIAP con cuatro galardones; y Golden Drum consiguió cinco premios. Los trece trabajos presentados por el ADCE ganadores son:
- Best of Beverages: Tropicana billboard powered by oranges de DDB Paris
- Best of Sports: The Face of the Marathon de HEIMAT, Berlin
- Best of Cars / Best of Installations and Events / Best Use of Technology: The Invisible drive de Jung von Matt
- Best of Travel, Tourism and Transport: Curators of Sweden de Volontaire
- Best of Retail: Names de Spillmann/Felser/Leo Burnett
- Best of Communication Media and Publications / Best of Film / Best of Craft for Production: The Bear de BETC
- Best of Entertainment, Recreation and Leisure: The Concert of Toys de CHINA
- Best of Corporate / Best of Publications: The Solar Annual Report de serviceplan
No te pierdas nada de MarketingDirecto.com y únete a nuestro Telegram t.me/MarketingDirecto