40 blogs de marketing imprescindibles para estar a la orden del día este otoño
Septiembre es un mes de comienzos. Tras dejar atrás las vacaciones y la desconexión estival toca volver al trabajo y, sobre todo, ponerse al día de todas las tendencias que llegan al terreno del marketing.
Para ayudarle en esta tarea y que no se pierda nada de lo que acontece en la industria, le mostramos los 40 blogs de marketing que no debe perder de vista de la mano del ranking elaborado en colaboración con Ditrendia, división estratégica de digital y marketing de Tatum, consultora experta en transformación comercial.
Para crear esta lista se han tenido en cuenta factores como la popularidad, la calidad, la comunidad existente en torno a ellos y la vitalidad.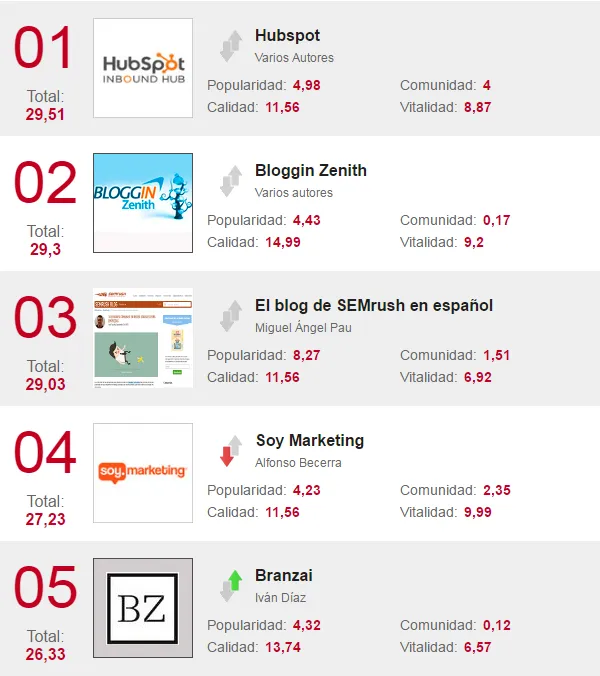 Así, encontramos a Hubspot liderando de nuevo el ranking con un total de 29,51 puntos; seguido de Bloggin Zenith con 29,3 puntos; El blog de SEMrush en español, que se sitúa en tercera posición con 29.03 puntos; Soy Marketing con 27,23 puntos y cerrando el top 5 está Branzai que cuenta con 26,33 puntos.
Continuando la lista, Análisis web acumula 25,5 puntos, seguido de Marketing Experiencial con 25,37; 40 de fiebre con 25,01 y cierran el top 10 Angel Bonet con 24,98 y Comicpublicidad con 24,83.
En los puestos comprendidos entre el 11 y el 15 encontramos a Social Animals (24,81);Bien pensado (24,79); Marketing And Innovación (24,31); Ciudadano 2.0 (24,24) y Medios Sociales (24,16).
Llegando a la mitad de la tabla se posicionan Marketisimo con 24 puntos; Websa100 que acumula 23,65 puntos; Marketing Inclusivo con 23,51; We are marketing con 23,41 y en el puesto 20 Denken Über con 23,34 puntos.
Del 21 al 25 nos topamos con Comunicación se llama el juego que cuenta con 23,22 puntos; El blog de eCommerce cuya puntuación es de 22,1; Kaizen Marketing con 21,9; Neuromarketing Spain con 21,28 y Conrado y Más que consigue 20,6 puntos.
Avanzando en la tabla hallamos El blog de Isra García (19,89); Victor Martín (18,95); El Blog de José Facchin (18,07); Jordi Hernández (17,64) y a Estrategia Práctica (17,32).
Por su parte, los últimos 10 puestos son ocupados por Marketing and web que alcanza los 17,12 puntos; Young Marketing con 17,1; Jardín de Ideas con 16,91; Luis Maram con 16,84 y Javier Heredia. Gestión Comercial | Marketing | Ventas con 16,73 se sitúa en el puesto 35.

Los últimos 5 puestos, del 36 al 40, los ocupan SM Reputation Metrics (16,29); ThinkAndSell (16,15); Blogger 3.0 (15,65); Dirección Comercial Blog (14,96) y cierra la lista Equiliqua (14,17).
No te pierdas nada de MarketingDirecto.com y únete a nuestro Telegram t.me/MarketingDirecto